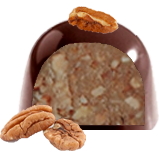 Ingredients: 70% raw chocolate (raw cacao beans*, coconut sugar*), pecans*, medjool dates*, pink himalayan salt*, pau d'arco*, cat's claw*, echinacea*, reishi*, Love. *organic
Pecan Pie Truffles
Pecan pie filling infused with medicinal herbs for the immune system. Our pecans come direct from the farm - The Missouri Pecan Growers!
Pecan Pie Truffles
4 Pecan Pie Truffles $14.99
In Algonquin, "pecan" means "a nut needing a stone to crack." In any language, we need the stones of determination, discipline, and enlightened intent to crack our egos and defenses and reach the delicious nut of our selves. With the immune system boosting properties of Pecan Pie Truffles, your allies in these areas, you can make your holiday enjoyment healthy in every way. A clean body and calm mind are the channels through which you share your loving and joyful spirit with those near and dear to you.